VAN IN A BOX
™

- your quickest path from cargo van to adventure van
Flarespace Van in a Box™ concept was created to simplify the process of turning your cargo van into an adventure van. As an awesome by-product and through our modular solution, you can also use your van in three important configurations, as a cargo, passenger, or adventure van.
A modular van is a useful van. It's a van that fits your life and allows you to get out and enjoy the freedom that an adventure van affords with the utility of a cargo or passenger van.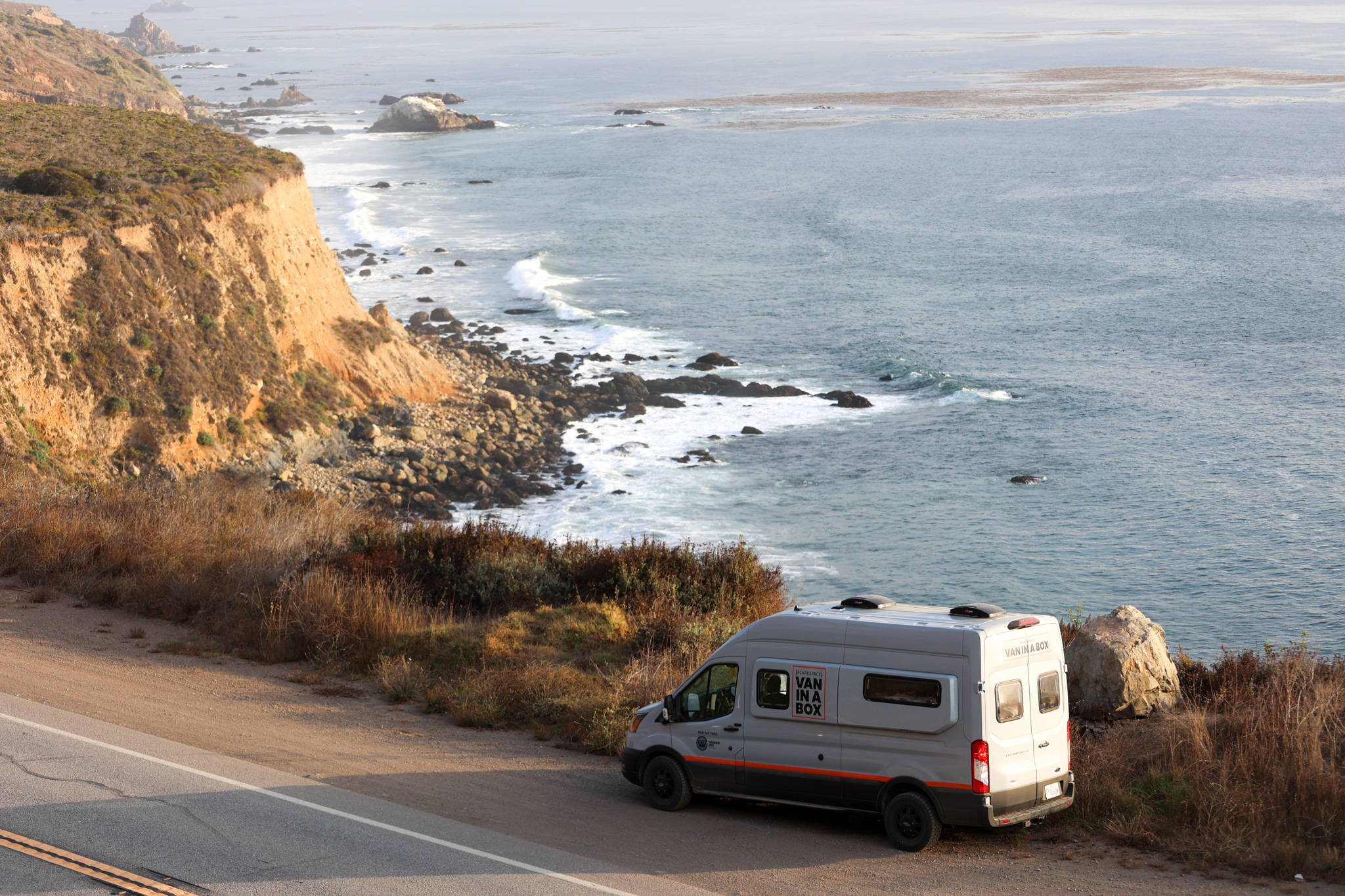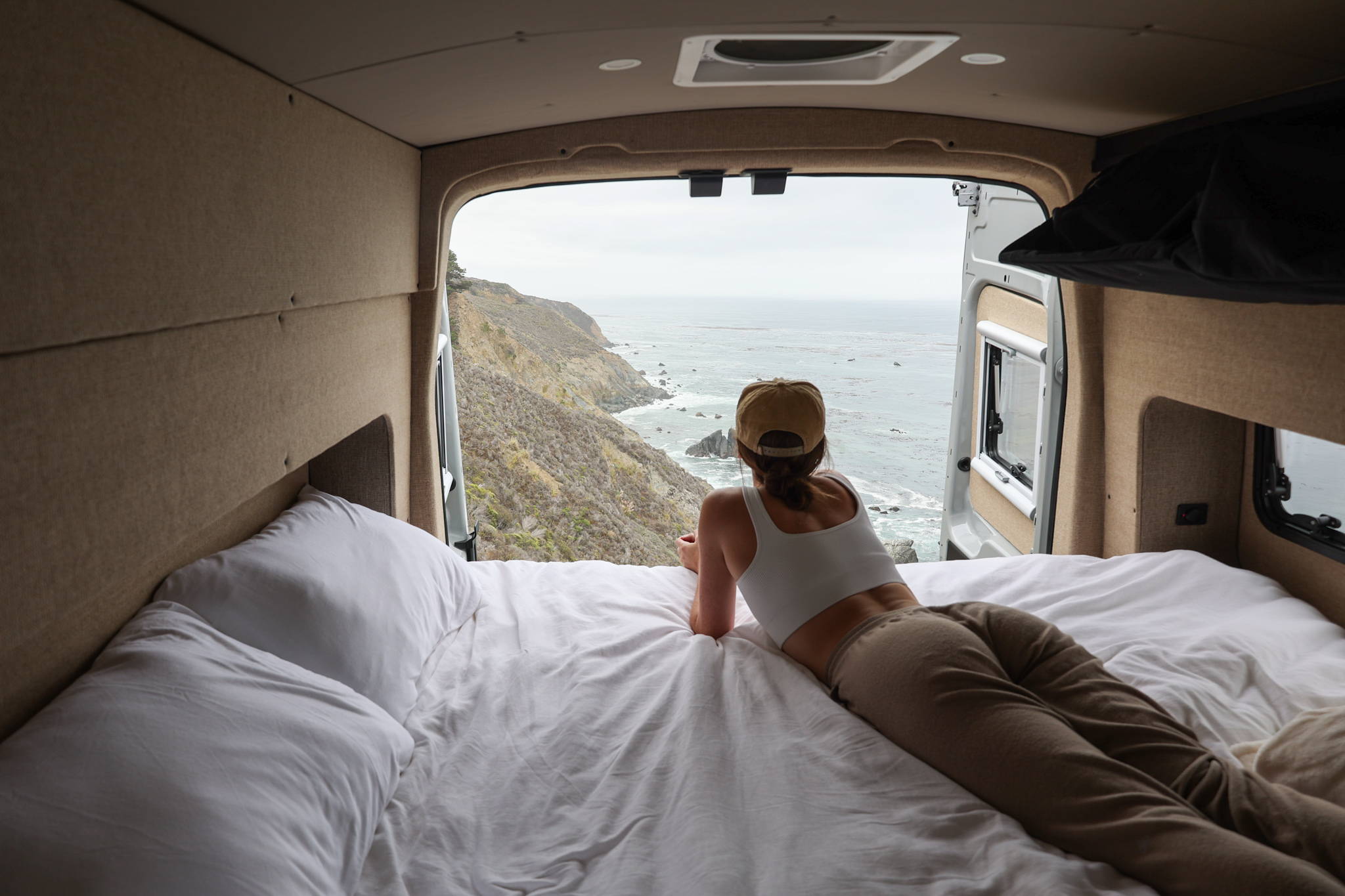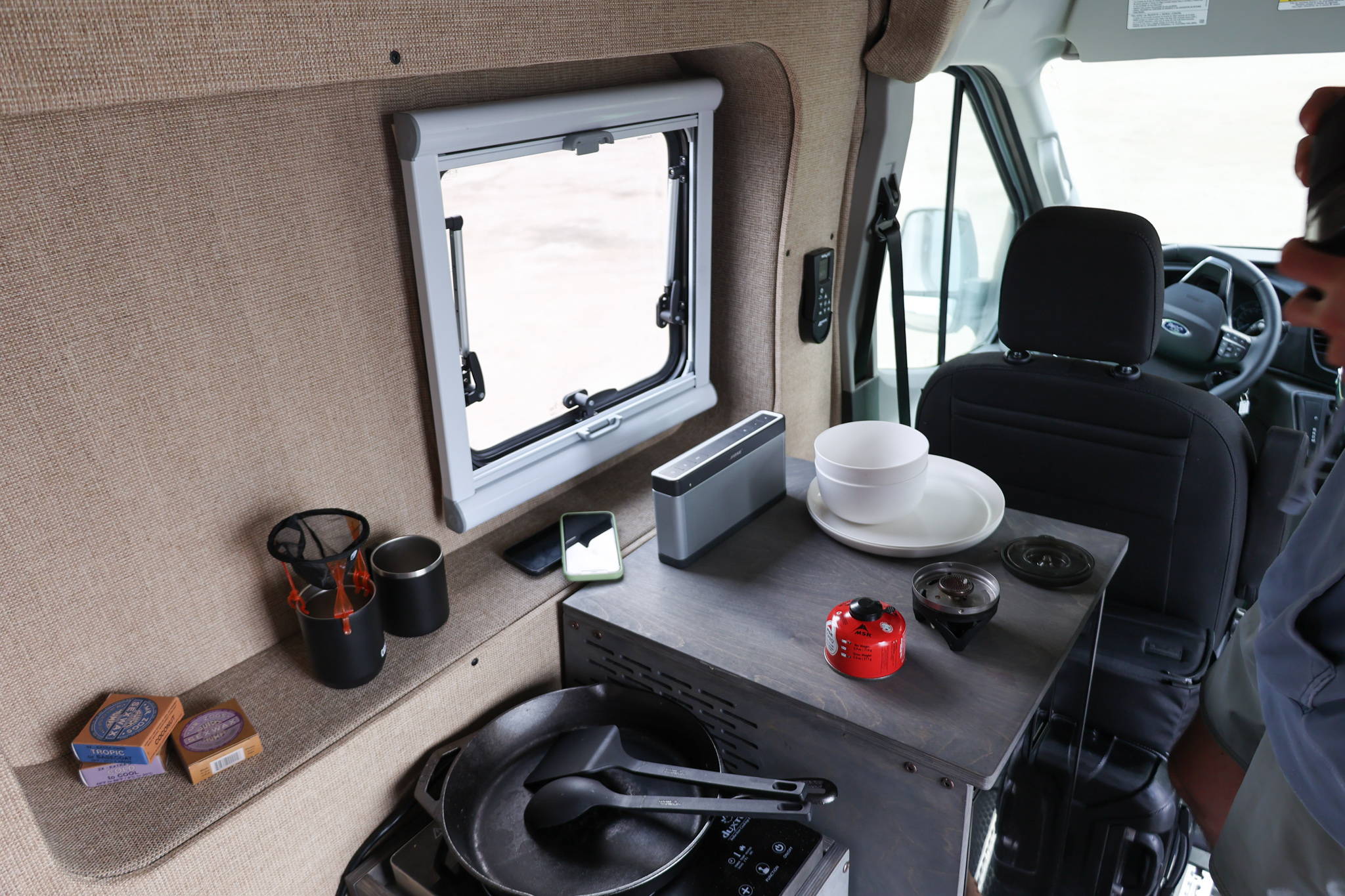 Schedule a van consult with a Flarespace Pro.
We'll help you through all of the tough decisions when it comes to building your van.
Introducing our boldest, biggest product yet, the Mega Flare. Stretching from behind the driver's side door, all the way to the back of your van, the Mega Flare offers additional space inside your van for storage and sleeping. Configure to maximize sunlight and ventilation with windows, or prioritize privacy and storage.
The Mega Flare offers 8" of added width in the midship section and creates 82" of bed length in the rear section!
Okay, so you don't have to use the Mega Flare but we recommend it. Just let us know on your consult if you would like to use the traditional Flares.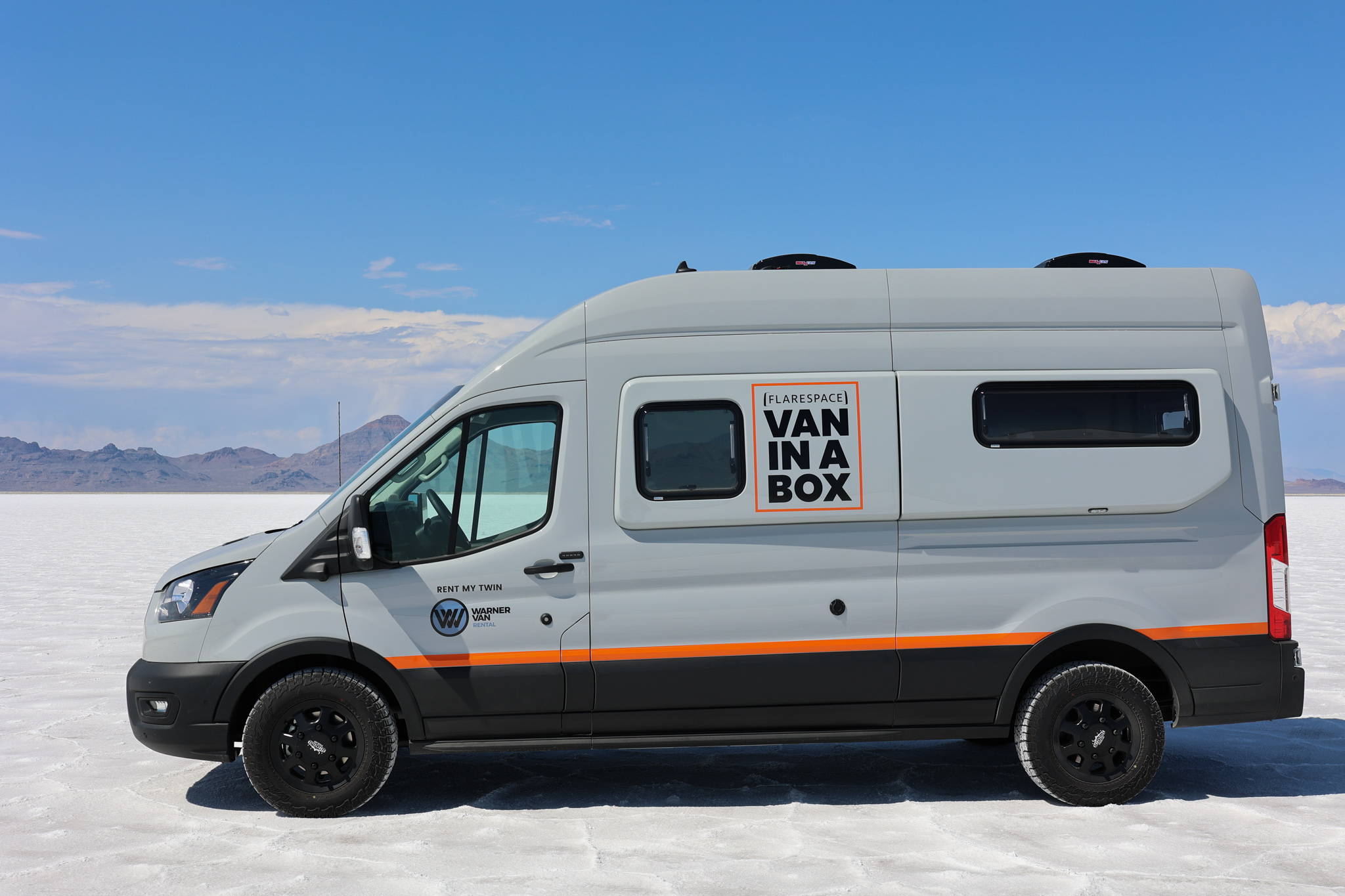 Flarespace's Trim Rings create a windowsill around the inside of the Flare and fill the space between the inside wall of the van and the inside wall of the Flares. Made of molded fiberglass, Trim Rings are designed to simply attach to the backside of your van's wall panels and are completely compatible with the rest of Flarespace's products. These high tech trim rings have two usb 3.0 charging ports and two overhead lights.
Pro Tip: Flares, Trim Rings, and our Bed System are the ultimate trio, creating a flush surface from flare edge to flare edge so you can sleep with more room.
The Flarespace bed system includes two 30" wide flyweight bed panels, all the mounting hardware including 14 gauge sheet metal for structural support, all hardware for installation including the drill bits, and carriage bolts to secure the bed panels to the rail. It also includes the Flarespace hinged custom mattress and custom sheets and bedding.
The bed panels are compatible with our Trim Rings, making an 80"x60" bed.
Say goodbye to a lack of ventilation and broken rear windows in your van! Flarespace's Rear Window Vents are designed for Sprinters and Transits and fit exactly like the factory windows. This fiberglass alternative to rear glass windows has integrated operable windows that open for air circulation in your van – helping to prevent mold, mildew, and rust.
If you're a two-wheel adventurer using rear door bike mounts, you'll never have to worry about a misplaced pedal breaking your Sprinter's rear glass windows.
What's more, this van ventilation kit includes window covers with built in storage!

Now offering multiple interior cover options, including the Tern Overland cover shown here.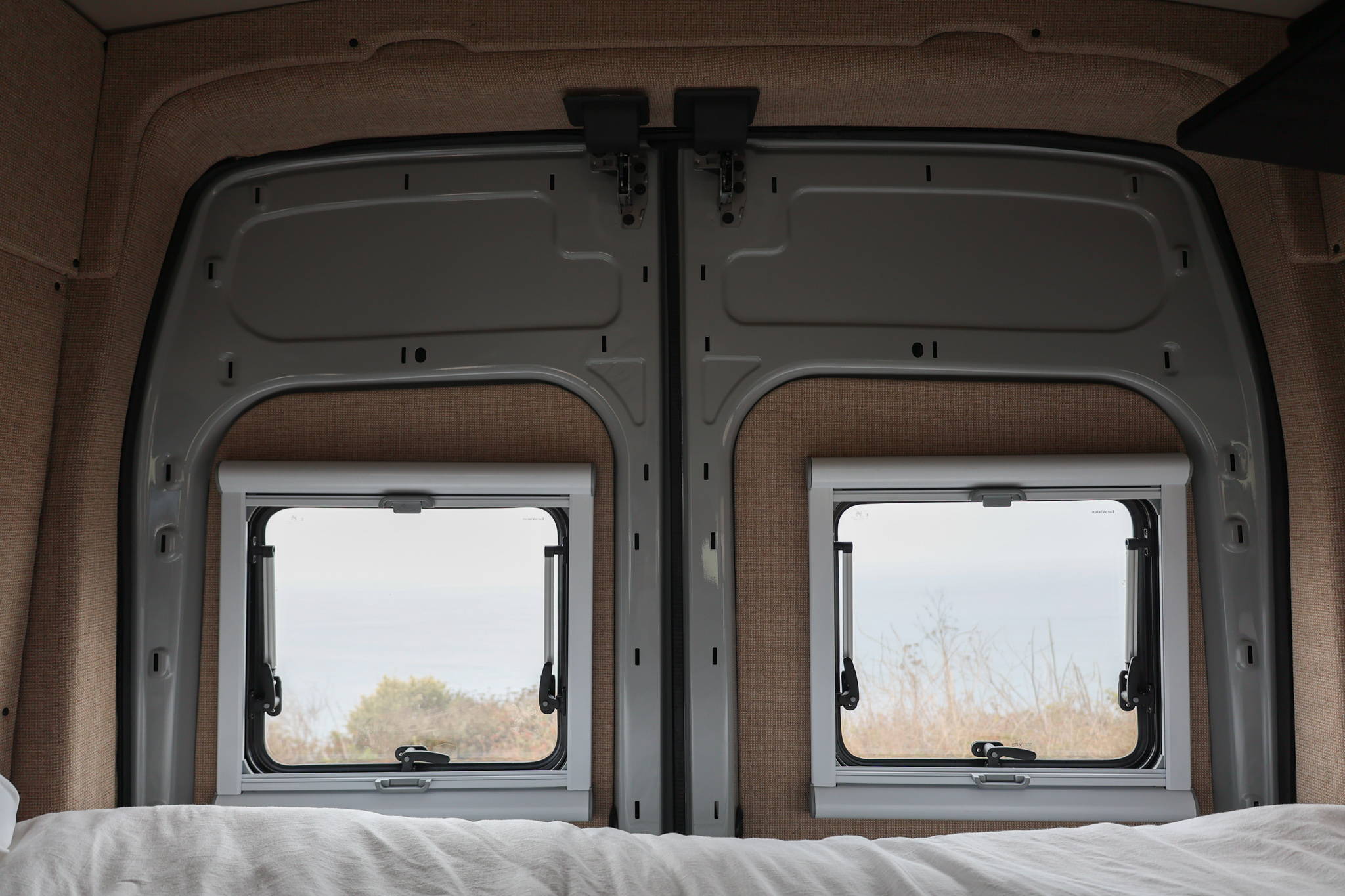 Custom Mattress & Bedding
Custom-fit for your Mercedes Sprinter 144", Mercedes Sprinter 144", or Ford Transit 148", the dimensions of Flarespace's hinged mattress are 60" wide by 79.5" at the longest bed length and sits perfectly inside your regular or extended depth Flares. Choose between our two styles of custom mattresses.
The Flarespace Sheets & Bedding Kit is customized to fit Flarespace's hinged mattress. This bedding bundle includes a custom fit mattress pad, custom fitted sheet, flat sheet, comforter, two pillows, and two pillowcases. We researched and tested to find the most breathable yet durable material for van bedding and this is the final product.

The Flarespace Interior Finish Kit is the perfect DIY solution to finish the interior of your Flares. The kit includes gray Marathon fabric, spray adhesive, 1/4'' foam and enough material to finish both Flares. The Interior Finish Kit works with all Flares.
This interior panel system features precut panels compatible with our Flares & Trim Rings, taking the guesswork out of your adventure van interior build. Most of the van wall solutions on the market lack rigidity, but the Flarespace Interior Panel Kit includes a structural steel component for a solid mounting surface that ensures a tight fit between ceiling and wall panels. That means cost-efficient, warp-free van interiors that'll last for years.
Download a panel kit diagram for your van.
Includes 12", 18", and 24" bags
These bags function like a removable cabinet. They can be partially unzipped to reveal the inner pockets, including the fully zippered mesh pocket. Two side stuff pockets allow you to easily access items that you need more frequently and a zippered side pocket is perfect for a cell phone and features a key leash. The bag has side handles for easy carrying and removable padded shoulder strap featuring metal hardware that is easy to clip and unclip.
Features:
Fully collapsible
Easy to assemble
Zippered main compartment
Zippered mesh interior pocket
Contrasting interior color for easy viewing
Carry handles
Removable shoulder strap with pad
Two side stuff pockets
One side zip pocket with key leash
All black hardware
YKK zippers
All black design coordinates with most interiors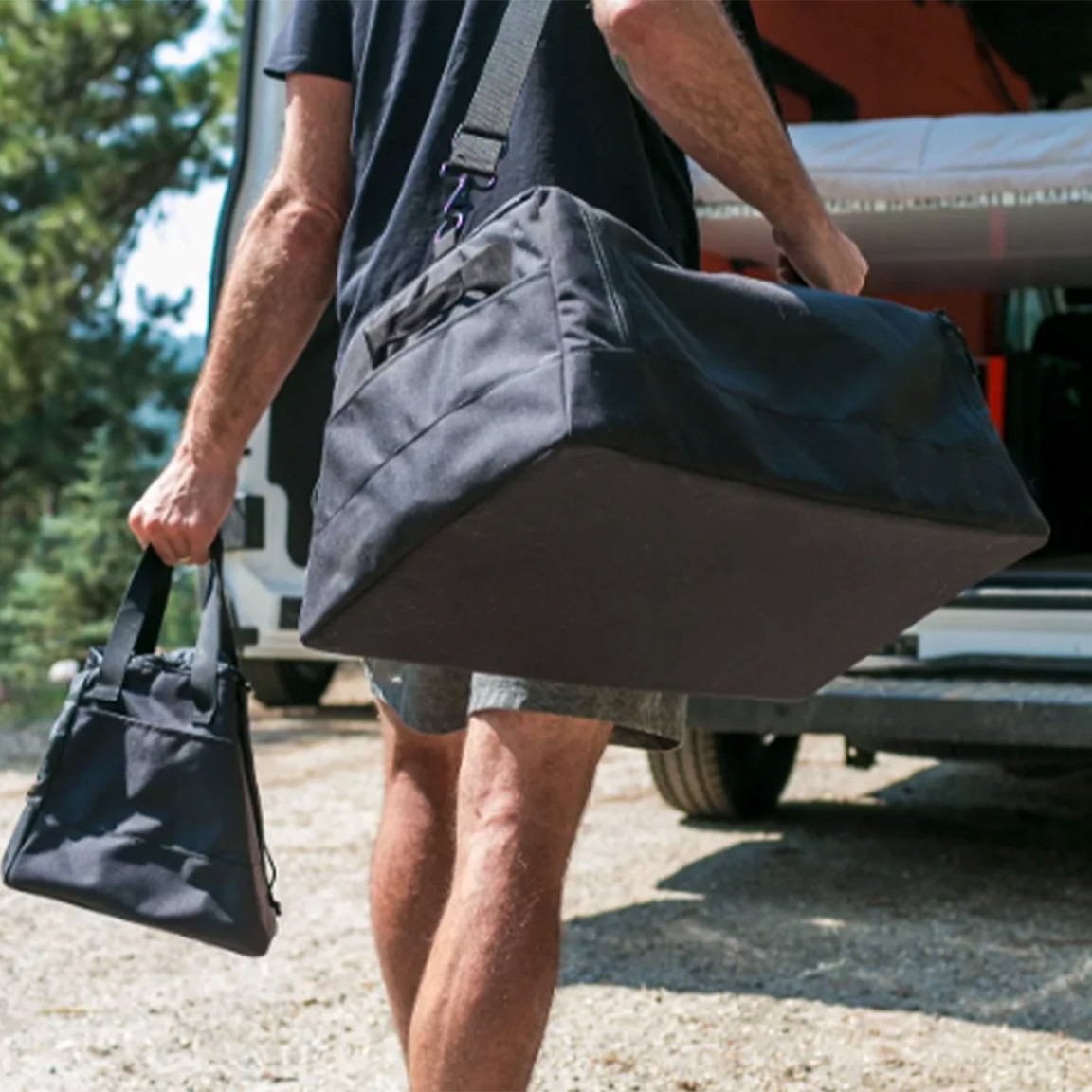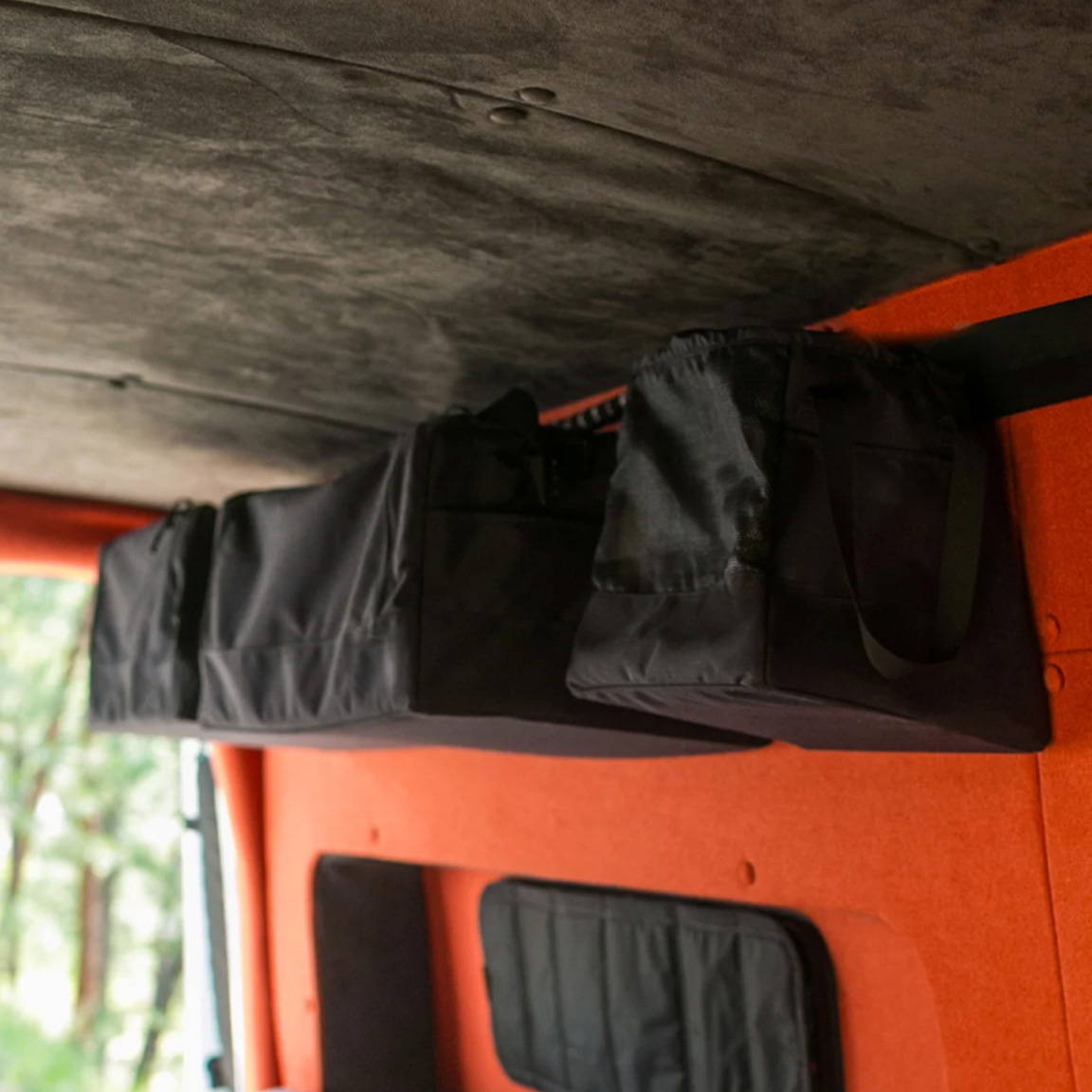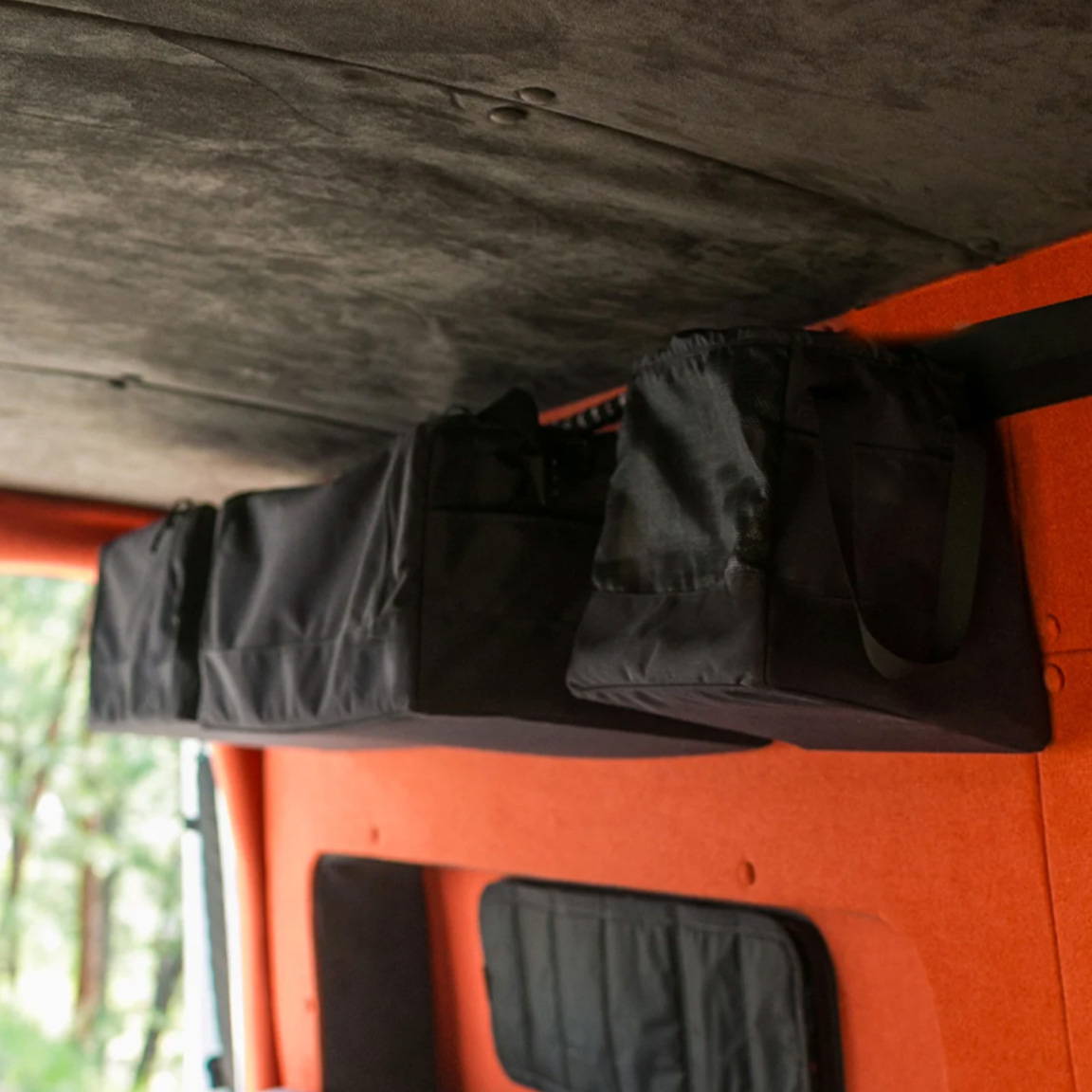 Designed specifically for the AWD Transit (Sprinter wheels coming soon)




Designed to accept Ford factory OEM lugs for improved safety (black Flarespace lug nuts available at an additional cost)




Works on stock and lifted suspensions




16x7 lug pattern with the proper offset




Flow-Forged technology for improved strength with reduced weight and better on/off-road performance




DOT and FMVSS compliant to ensure safety




Tested to SAE standards for extreme use with

3,300 LBS

of load capacity




Extremely durable Satin Black finish with

3-year warranty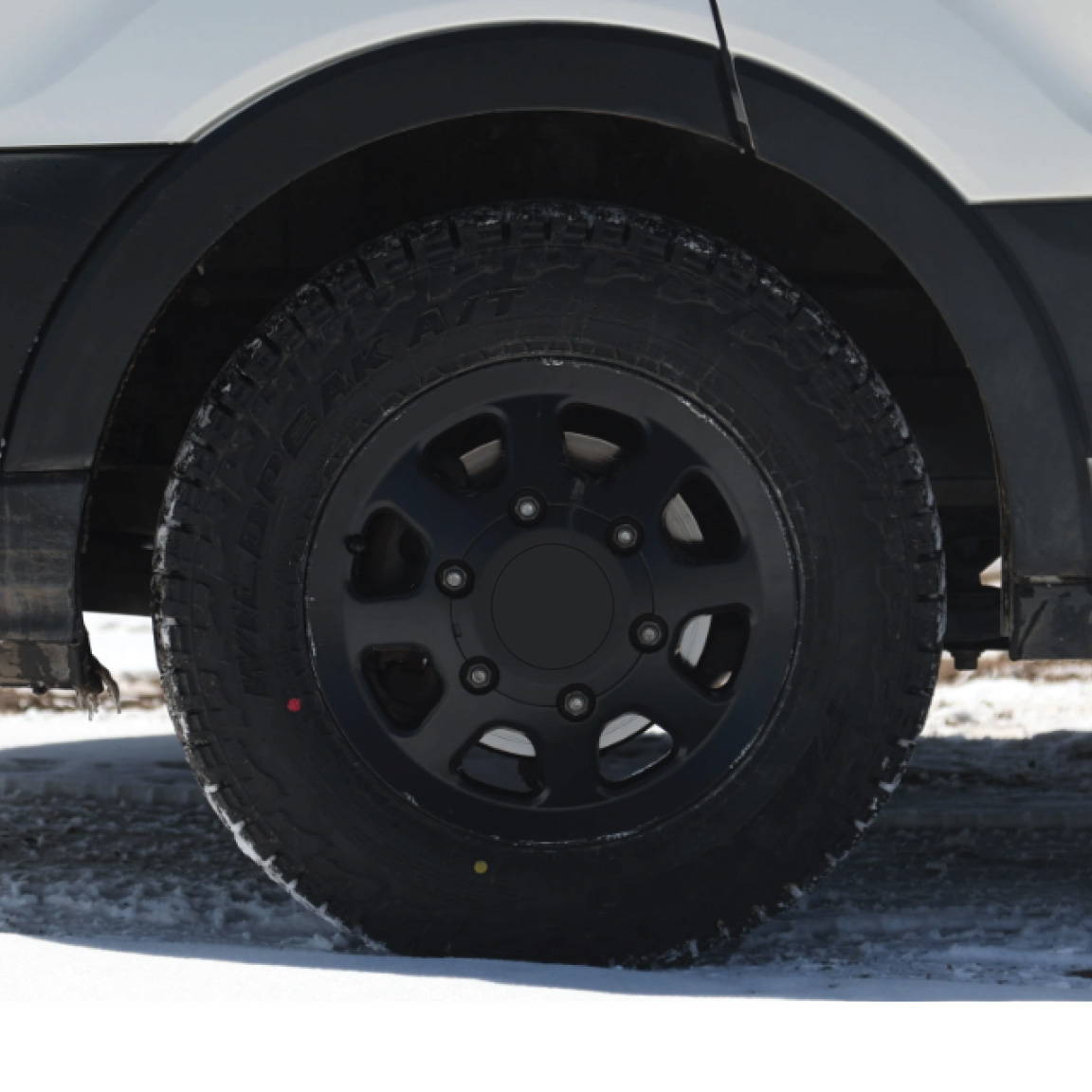 Rigwell's all-new Camp Deck Series of roof racks are a game changer for your van. The Camp Deck Slim has all the benefits of a full Baja-style roof rack packed into a slim modular design at half the cost of most other racks with this many features! Our vision for the Camp Deck Slim was to have a modular roof rack that was easy to install and had an integrated lighting solution, wind fairing, awning compatibility, and a modular decking system. The coolest part is that we packed so many features into one roof rack and still kept the overall profile extremely thin at only 2.75 inches tall on the side blades. We think it's the perfect blend of functionality and aesthetics; it's bold yet simple and clean. We hope you love it as much as we do!

Features:
¼-inch-thick aircraft-grade aluminum side blades and stainless steel hardware
6 anodized aluminum 8020 style crossbars, additional crossbars available for purchase here
Compatible with the Fiamma F45S Awning with our custom awning bracket kit
DIY-friendly install, lightweight design; no crane needed
Drill-free, uses factory roof rails
Free shipping to the lower 48 states
Made in the USA
Integrated light bar
Integrated wind fairing


Compatible
2007+ Mercedes-Benz Sprinter 144" High Roof Vans
Battery

Cabinet

(Coming soon from Flarespace)

Refrigerator Cabinet (Coming soon from Flarespace)
Full wiring harness kit (Coming soon from Flarespace)
Rear Door Storage (Sprinter only)
Schedule a van consult with a Flarespace Pro.
We'll help you through all of the tough decisions when it comes to building your van.